Sir Max Pemberton (19 June 1863 – 22 February 1950) was a popular British novelist, working mainly in the adventure and mystery genres. He was educated at St Albans School, Merchant Taylors' School, and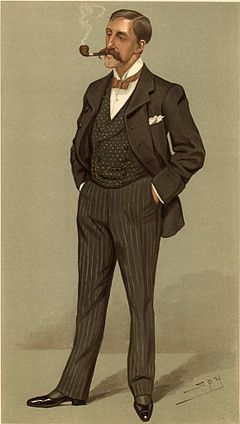 Caius College, Cambridge.
A clubman, journalist and dandy (Lord Northcliffe admired his 'fancy vests'), he frequented both Fleet Street and The Savage Club. He was the editor of boys' magazine Chums during its heyday. Between 1896 and 1906 he also edited Cassell's Magazine, in which capacity he published the early works of R. Austin Freeman and William Le Queux.His most famous work The Iron Pirate was a bestseller during the early 1890s and it launched his prolific writing career. It was the story of a great gas-driven iron-clad, which could outpace the navies of the world and terrorized the Atlantic Ocean.
Other notable works included Captain Black (1911). During January 1908, Pemberton had a story entitled Wheels of Anarchy published by Cassell & Company (London). This story was based upon notes that were written by Bertram Fletcher Robinson shortly before he died in January 1907. It is an adventure tale about anarchists and assassins that is set across Europe. The novel's hero and narrator, Bruce Driscoll, a recent Cambridge graduate, appears to be modelled upon Fletcher Robinson. Wheels of Anarchy was republished in December 2010 by MX Publishing Ltd., London.
In 1920, Pemberton founded the London School of Journalism, wrote a biography about Alfred Harmsworth, 1st Viscount Northcliffe and was knighted. He was married to Alice Tussaud, granddaughter of Madame Marie Tussaud and daughter of Joseph Tussaud.