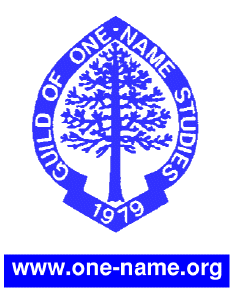 The Pemberton One-Name Study was started when the surname Pemberton (with its major variants) was registered with the Guild of One-Name Studies (GOONS) of London, England. That was in early 2010. Jackson Pemberton registered the name because in his efforts to locate his ancestor George Pemberton of Cheshire, he had extracted thousands of Pemberton events from the online parish registers and wanted to share the information with others. The Pemberton DNA Project was started a few months later, and finally in the fall of 2010, he began constructing the Pemberton Family World Wide.
The logo at the right will click you to the home page of the GOONS web site. To go to the Pemberton One-Name Study page on the their website, click here: http://one-name.org/profiles/pemberton.html.
This study is an on-going project with new data being added as time goes. The data is all available on the PFWW website and indeed, one may think of the PFWW as the "owner" of the project.