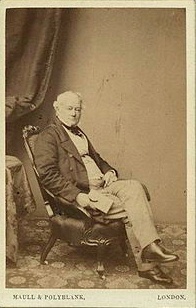 Thomas Pemberton, as he was named at his birth February 11, 1793, was a British barrister who eventually served as a judge and was also active in political endeavors including sitting as an MP from 1831 to 1832 for Rye and again from 1835 to 1843 for Ripon. He also served as attorney-general for the Duchy of Cornwall. His most famous post was on the judicial committee of the Privy Council, a post he held for two decades. In 1858 he was elevated to the peerage as Baron Kingsdown. He died in October, 1867, having lived over 70 years and never married.
In 1842 Sir Robert Leigh, a relative of his mother, left him an interest in his Wigan estates of £15,000 per annum. At that point he assumed the second surname of Leigh thus becoming the Right Honorable Thomas Pemberton Leigh, or as usually referred to later, Thomas Leigh Pemberton. He was after all, a biological Pemberton.
In an email dated March 5, 2003, and directed to PFWW member Herbert Pemberton of Blackpool, a great grand nephew, Adam Leigh Pemberton states that Edward Leigh Pemberton was the brother of Thomas Leigh Pemberton and his (Adam's) Great Great Grandfather. He continues:
Edward Leigh Pemberton [was] the founder of Meynell & Pemberton and President of the Law Society, from which Robin is also descended. His fifth son was Major General Sir Wykeham Leigh Pemberton K. C. B. who married Jesse Graham, who is, no doubt the Lady Leigh Pemberton referred to by Herbert Pemberton. Their eldest son, Darell Leigh Pemberton, married Violet Hope Howard and they had five girls.
The Robin, alluded to here, is certainly Robin Leigh-Pemberton, Governor of the Bank of England from 1983 to 1993. He was also Baron Kingsdown.
Photo courtesy of Wikipedia.org.