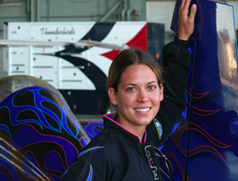 Melissa, born June 22, 1984, attended several years at Embry Riddle Aeronautical University studying Aeronautical Science and Mathematics.  Melissa was a champion rock climber throughout high school, winning numerous competitions and served as the president of ERAU's Bouldering Crew in Prescott, AZ. In her freshman year, Melissa, along with her roommate Amanda, played for the ERAU Men's Soccer Club and subsequently started the first school-sponsored Women's Varsity soccer team.
A native of Pittsburgh, Pennsylvania, Melissa was introduced to aviation and aerobatics by her flying grandmother in a Cessna 150 Aerobat – the same airplane she took to EAA AirVenture as a newly minted private pilot in 2002 after learning to fly with her grandfather, Leo Janssens . During her 2003 trip to Oshkosh, Melissa saw the "Stars of Tomorrow 2003" program, sponsored by Sean D. Tucker and Mike Goulian. They mentored six future air show pilots to start the new program and introduce young talent to the Oshkosh AirVenture audience.
Inspired by the program's outreach to young pilots, Melissa returned to Arizona with a determination to learn and compete in Aerobatics and began training with Major General Hank Canterbury. In less than one year under the coaching of Sergei Boriak and the mentoring of Wayne Handley, Melissa went from first-time Aerobatic Contestant at the Sportsman Level to Third Place Overall in Intermediate at the 2004 U.S. National Championships (1st place Unknown, 2nd place Known, 3rd place Freestyle) and began to fly her first airshows. On October 26, 2004, Sean D. Tucker invited Melissa to be one of three pilots chosen for the "Stars of Tomorrow 2005."
After competing at the Advanced level with her Pitts S-2C while achieving her "Building, Antenna, Span and Earth" jumps in 2005, Melissa received delivery of her new Zivco Edge 540.  In the summer of 2006 she began competing at the Unlimited level in which she placed 1st at her first competition of the season.   Melissa became the youngest female ever to be a member of the US Unlimited Aerobatic Team at the 2006 Nationals.  Instead she is spending her season touring around Australia with her Edge.
Melissa strives to be a positive role model and inspiration to young people in aviation and women across the world showing them that no dream is too big and nothing is impossible! She was a keynote speaker at the 99's International Convention in 2006 and is always looking for invitations to share her dreams and experiences with others.
Melissa Aerobatics is based in San Francisco, California