Safe Harbour for Pemberton History and Genealogy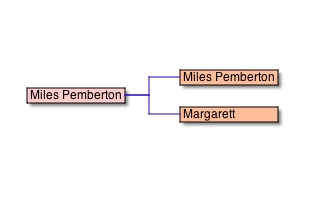 One of the challenges facing family historians and genealogists is the need for a safe place to store their life's work. We have learned by sad experience, that a "perfect pedigree" can be lifted out of proper context and pasted into a place where it doesn't belong. Then it is only a matter of time before the error is propagated across the internet and the corruption goes on. The Pemberton Family World Wide's pedigrees are protected somewhat by the fact that one must register, then pay dues and become a member before receiving access to our data. This puts people on the alert that "we know who you are" and serves to discourage, but not totally prevent, such corruption.
There is another aspect of data safety also. It is extremely disheartening to spend years and precious funds to create a family history only to have it vanish because the storage facility "went dark". Whilst there are many commercial sites offering free storage, one can never be sure what may happen as business pressures force changes upon these sites. The PFWW organisation is owned and operated by the Pemberton family. By becoming a member of the PFWW organisation, and particularly by becoming active in its administration, one may have considerable influence over the safety and security of his data. Nevertheless, it is mandatory that each researcher take appropriate steps to keep a least a few of his own copies of his data and preferably in different safe places.
About Copyrights
The data in the PFWW databases are protected by copyright, but those laws only protect the collection taken as a whole and not the individual data items. So there is no real way to protect our information from misuse and abuse that is stronger than putting it in a safe place and shutting the door on it for all but those who can show a legitimate reason for access. While the tiered access authority system of this website is not bulletproof by any means, it does present some hurdles which at least make it inconvenient for those types looking for a casual pedigree. They will probably go searching somewhere else.
In terms of the authority to create new content for the PFWW website, there is a data access hierarchy defined in the PFWW By-Laws. They define Authors, Editors and Publishers. On the Pemberton genealogy site, there are Guests, Submitters, Contributors, Editors and Administrators.