Welcome to the Pemberton Market!
Notice: The market is closed until we get the website restored properly. Email president@pembertonfamily.com to make purchases.
We have four items:
the Pemberton Griffin T-Shirt,
the DNA Test,
and a DNA Donation.
---
Pemberton Pedigrees: the 2014 DVD Edition of the 1923 book by Major-General Robert Charles Boileau Pemberton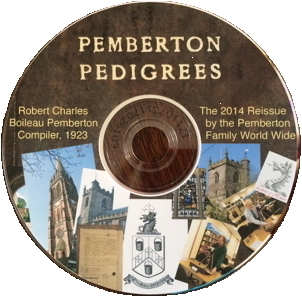 This is the reissuing of the entire 1923 edition of the famous Pemberton Pedigrees book including all the pedigree charts on a DVD. It is avaliable here for $30 (about £19). Please note that you may also pay membership dues in the Pemberton Family World Wide organisation at the Family Patron level or higher (exactly same price) and receive a free copy of the DVD.
The DVD includes not only the entire book with its 40 pedigree charts, but also the following:
An introduction to the 2014 edition
The complete set of photographs of the entire book that forms the basis of this electronic edition
Pictures and description of the process of converting the book to electronic form
Many of the charts include the arms of the families on the chart
Price is $30. To get a shopping cart and order a Pemberton Pedigrees DVD, click here.
To see an online version including the entire book without the pedigree charts, click here. Pedigree Chart No. 1 is there as an example.
---
Pemberton Griffin T-Shirt
Here is our Pemberton t-shirt featuring the Griffin – a favorite, ancient family crest of many Pemberton families. Each shirt includes a card explaining the meanings of the symbols in heraldry. The griffin is a heraldic device that would have appeared on their private letterhead, on articles of clothing like jackets and handkerchiefs, perhaps in the architecture of their houses, and almost without exception at the top of their coat of arms if the family had been awarded arms. It symbolized valor, vigilance, strength and perseverance. This seems very appropriate for a family that is known for these characteristics. The shield represents the "arms" portion of a coat of arms and the chevron (French for rafter) symbolizes protection and security. The motto in transliteration means "Seek Honor" but the words should be taken in their ancient senses of seek after and try to obtain respect, integrity, worthiness, honor and dignity.
Price is $ 10.00. To get a shopping cart and order shirts, click here.
Buy it.

Wear it.

Love it.

Answer the questions.

 

Buy it.

Wear it.

Love it.

Answer the questions.
The shirts wiere ordered for printing on July 25th, 2012 and will be sold here until gone. If you want the shirt shipped to a mailing address you will need to select the appropriate shipping also. As of January 1, 2015, we have only 4 shirts remaining in our inventory: 1 Child's, age 2/4; 1 Men's Small; and 2 Men's Medium.
Please note that all purchase transactions initiated on this website, are carried out by PayPal (you do not need a PayPal account) and that none of your financial information is acquired or retained by the PFWW or this website. When you make a puchase, you will be handed off to the PayPal system where you can use a debit or credit card or a PayPal account and when your financial transaction is complete, the PayPal system will hand you back to the PFWW system.
To order a shirt click here. You will need to be logged in to make a purchase.
Shipping Cost Table for USA Domestic and Foreign
| | | | | | |
| --- | --- | --- | --- | --- | --- |
| Quantity | USA Per Shirt | Total Domestic | — | Foreign Per Shirt | Total Foreign |
| 1 | 2.97 | 2.97 | | 10.03 | 10.03 |
| 2 | 2.68 | 5.35 | | 8.48 | 16.95 |
| 3 | 3.78 | 11.35 | | 5.65 | 16.95 |
| 4 | 2.84 | 11.35 | | 4.24 | 16.95 |
| 5 | 2.27 | 11.35 | | 3.39 | 16.95 |
| 6 | 1.89 | 11.35 | | 2.82 | 16.95 |
| 7 | 2.21 | 15.45 | | 4.71 | 32.95 |
| 8 | 1.93 | 15.45 | | 4.12 | 32.95 |
| 9 | 1.72 | 15.45 | | 3.66 | 32.95 |
| 10 | 1.55 | 15.45 | | 3.30 | 32.95 |
| 11 | 1.41 | 15.45 | | 3.00 | 32.95 |
| 12 | 1.29 | 15.45 | | 2.74 | 32.95 |
---
Because the Pemberton Family World Wide (PFWW) is a one-name study recognized by the Guild of One-Name Studies, the Pemberton DNA Project has a special, year-round, 20% discount available at the project's DNA testing laboratory Family Tree DNA, the world's largest genealogical testing institution.In order to take advantage of this offer, it is necessary that the PFWW order the test kit from Family Tree DNA on behalf of our members. This item in the Pemberton Market provides a simple means for registered members (it is not a requirement that you be a dues-paying member) to purchase a test kit under the discount offer.
The Pemberton DNA Project uses only the 37 marker Y-DNA test because it analyzes markers that handed down only from fathers to sons, just like the surname Pemberton is handed down. For more information about the Pemberton DNA Project, please select it from the Genealogy menu on the left of this page.
Price is $119 (Approximately £80). To get a shopping cart and order one or more tests, click here. Please note that there are funds available to assist with the cost of tests if that is an issue.
---
You can be of great assistance to the putting together of the Pemberton genealogical puzzle by donating funds to the Pemberton DNA Project.
One of the objectives of the Pemberton Family World Wide is to obtain at least one sample for each family represented by the 40 pedigree charts in the Pemberton Pedigrees book by Major-General Robert Charles Boileau Pemberton. Donations to this fund will materially assist us in this work.
The cost of a donation is one US Dollar so you can make as large or small a donation as you wish. To get a shopping cart and make donations, click here. If you wish this donation to apply to a test for a particular person, please note that as you order in the "Any Requests?" field where you enter the post address.
SaveSave