The Symbolism and Impact of Transportation in the American Family at the End of the Twentieth Century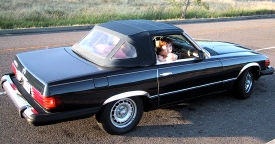 by Charlet Pemberton, December 8, 1999
While pondering this past year of 1999, I must pause to reflect on the modes of transportation, or lack thereof which profoundly influenced the lives of people in our family.
To begin with, Jack and I bought a second car this year.  Not just any car mind you, but a 1981 Mercedes Roadster.  It only seats two, and I'm sure the significance is not lost on our children who remember the 9 passenger station wagons that served our family in the past.  The age of the car may seem old to the young, but to the old it seems like the prime of its life.  There is a lot of power under that hood, make no mistake.  The Mercedes is built to last and gets more valuable with age.  That's why we relate to it so well.
We still have the 1989 Oldsmobile as a family car, one the teenagers can drive, the whole (currently at home) family can ride in, with a hitch for the trailer.  It also hauls building materials from Home Depot.  It represents the side of our nature which can't completely abandon responsibility (yet).
Robert's car is a shiny white Acura with a great sound system for entertaining women and a sunroof to give him a tan while cruising for women.  It takes half of his income to pay for it, but priorities have to come first.
Joseph and Jeannie sold their car before they moved to New York.  This was for two reasons.  First, there is no where to park in their New York neighborhood, and second, they like taking trains and busses.  They moved across country in something called the Family Mover from Ryder rentals.  It has an extended cab with space for car seats behind the driver and passenger seats, and a small floor between where the girls can have their toys during the long trip.  There is a small door from the cab to the back of the truck.  It actually works kind of like an RV.  This mode of transportation has evolved to accommodate the frequent and often long distance moves of the American family in the late 20th century.  Not having a car has had an enormous learning curve for Joe and Jeannie.   Jeannie has learned that grocery stores deliver for a fee of only one dollar. They've learned that they can't get out of church callings like Elder's Quorum President and Primary President just because they can't pick up or deliver.
Dave and Shelly drive an SUV with a designer label so when they go rabbit hunting they get respect.  Dave is into trucks just like he always was as a kid.   Now he has trucks for his crews to ride around in.
Brad and Krysta drive a van with built-in car seats for the kids.  Now that is a sign and a wonder!  It's a sign that we value our kids, that car restraints for children are here to stay, and we're tired of hassling car seats.  I wonder why we ever started driving so fast in the first place. We drive at such high speeds that an impact would demolish our car, and us with it,  but rather than slow down, to say 35 miles an hour, we strap ourselves in and pray.
Ethan and Emily have his and hers cars.  She has her job on the East side, he has his job on the South side, he goes to school on the North side, and they live on the West side.  It's a rare and happy occasion for the newlyweds when their cars are parked side by side.
Transportation affects every age and stage in life.  It varies from the oldest people who want to drive but shouldn't, to the youngest people who want to drive but shouldn't.  And there are lots of stages in between for people who wish they weren't doing so much of it,  or hope the kids will keep quiet while they drive, or would like to have a car that folded up and stored in the closet like a stroller when they're done driving.