If you are looking for the Pemberton Genealogy Storehouse, it is here: PembertonGenealogy.Com. You will need to log in there.
A Reminder: Always Check
Great research technique requires great care. One should always check the accuracy of extractions and indices such as this. When possible go all the way back to the original document or a photographic image of it to be sure the alleged record is really there – that the extraction was done correctly. Also, you will often find clues there that would have been missed if you had not reviewed the transcription's accuracy.
The Extraction Tree in the Pemberton Family World Wide Genealogy Site
Genealogical data extracted from Parish Registers, Wills, Tax Records, etc are placed in the genealogical tree named "Extractions Tree". This "tree" comes from a single GEDCOM file created by special computer programming done by the technologist@pembertonfamily.com. As data becomes available, it is processed into the standard GEDCOM format so that it can be uploaded to the Extraction Tree and become useable to members of the Pemberton Family World Wide.
The reason this data has been processed thus is to make it searchable in many convenient ways. For example, one might look for a William Pemberton and find one of interest residing in Norcroft. One can immediately do a search of all records that have a Norcroft place associated with them. The search engine in the PFWW genealogy site has a very large number (over 50) of parameters by which one can search the data: for example by occupation, rank, emigration place, and dates.
Because this data is very fragmentary, it does not appear as an ordinary pedigree chart but rather as thousands of tiny pedigrees. Each parish register baptism or death record, for example, is processed into a micro pedigree so that it shows the correct relationship between parents and children. Since the earliest records are very terse and so that Pemberton researchers using this data can easily comprehend what they are seeing in a search result, the first given name always has a code appended to it.·If there is no given name, the code appears where the Christian name should have been.
Name Codes
The first given name in a search result might read thus: Willm_BaCd which means that this person's given name was recorded as "Willm" and it appeared in a baptism record as the child. Here are some samples of these codes:
BaSn – A son in a baptism record (Note that if the gender of the baptismal candidate is unknown, this would be BaCh.

BaFa – A father in a baptism record

BaMo – A mother in a baptism record

BuDa – A daughter in a burial record

BuWf – A wife in a burial record
Notice that the first half of the code denotes the type of record providing the data and the second half a title for the person. Here is a comprehensive list of such titles:
Br – brother

Ch – child

Da – daughter

Fa – father

Hu – husband

In – infant

Ki – Kin of unknown family relationship

Mo – mother

Si – sister

Sn – son

Wd – widow

Wi – wife

Un – unknown association with the person reporting the burial
Here is a list of data source codes:
Ba – baptism

Bu – burial

De – deed or other property ownership record

Ma – marriage

Wi – will or probate declaration

Tx – tax record
The picture below shows how a simple baptism record is enhanced and displayed in a typical genealogical presentation mode. The names are tagged so that the researcher immediately sees what kind of data he is looking at. The genealogical engine makes navigation among records and juxtapositioning of similar records simple and powerful thus enhancing the discovery process for the researcher.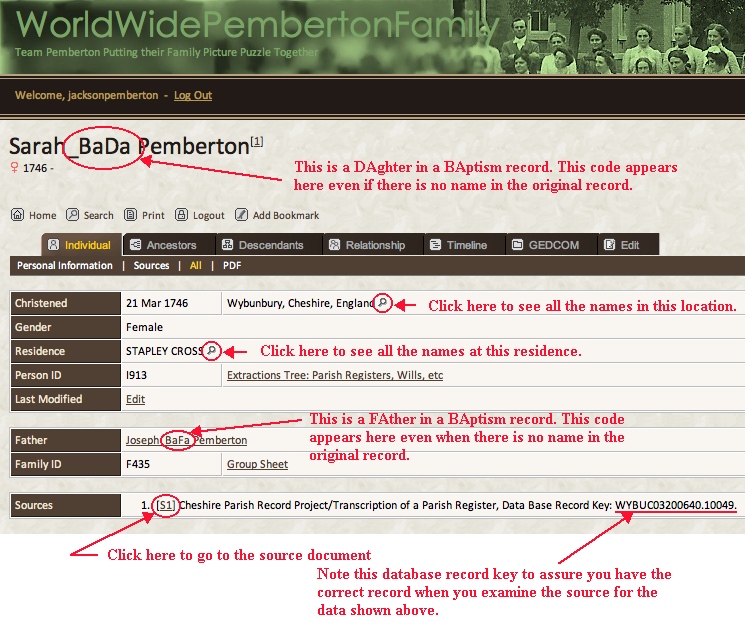 Powerful Searches
Notice that these codes open up whole new ways to search for information. For example: if you are looking for a baptism record where the mother's name is Sarah, there is no need to search all the Sarah's. You can find the one you want by searching for Sarah_BaMo. If you want all the Sarah burials, search for Sarah_Bu. Warning: if you are are using a partial code like this, be sure you choose "contains" and not "equals" for the search mode.